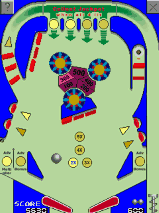 Porta-Pinball is a freeware pinball game for Pocket PC computers. It features realistic ball and flipper physics, powerful bumpers, flashing lights, and drop-down targets. It even allows nudging. Smooth animation and full sound effects round out the pinball-in-your-pocket experience.
The layout is simple, so the goals are easily learned, though not easily mastered.
* Hit the bumpers and targets to advance the score.
* Complete groups of bull's-eye targets to collect bonus points.
* Complete groups of drop-down targets to advance the bonus multiplier and bumper values.
* Lock the ball and receive an extra ball in its place.
* Complete the top four roll-over lights to collect the Jackpot.
Porta-Pinball has fully-configurable button assignments and allows the speed to be set from childish to fiendish.
Link
Download