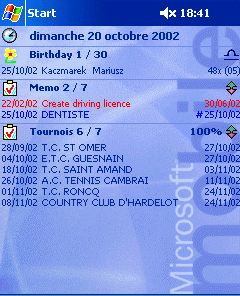 TaskPlus is plug-in for Today screen and display tasks from Outlook Pocket PC database.
Each line display one task with start date, subject and due date. Completed tasks are not displayed. Following actions are available from Today screen :
tap in subject text area = display and edit task details informations
tap in due date area (right date) = complete task after confirmation
tap icon TaskPlus = display create new task screen
tap right part of title or min / max icon = close / open TaskPlus list
Help file can be displayed from general Help Pocket Pc system or from options dialog.
Multiple instance with separated options can be installed on Today screen (clone option).
TaskPlus can display daily sign of
Zodiak
and track to display
Birthday and Anniversary
items of contacts from Outlook Pocket PC.
Link